Winter Holidays with Garage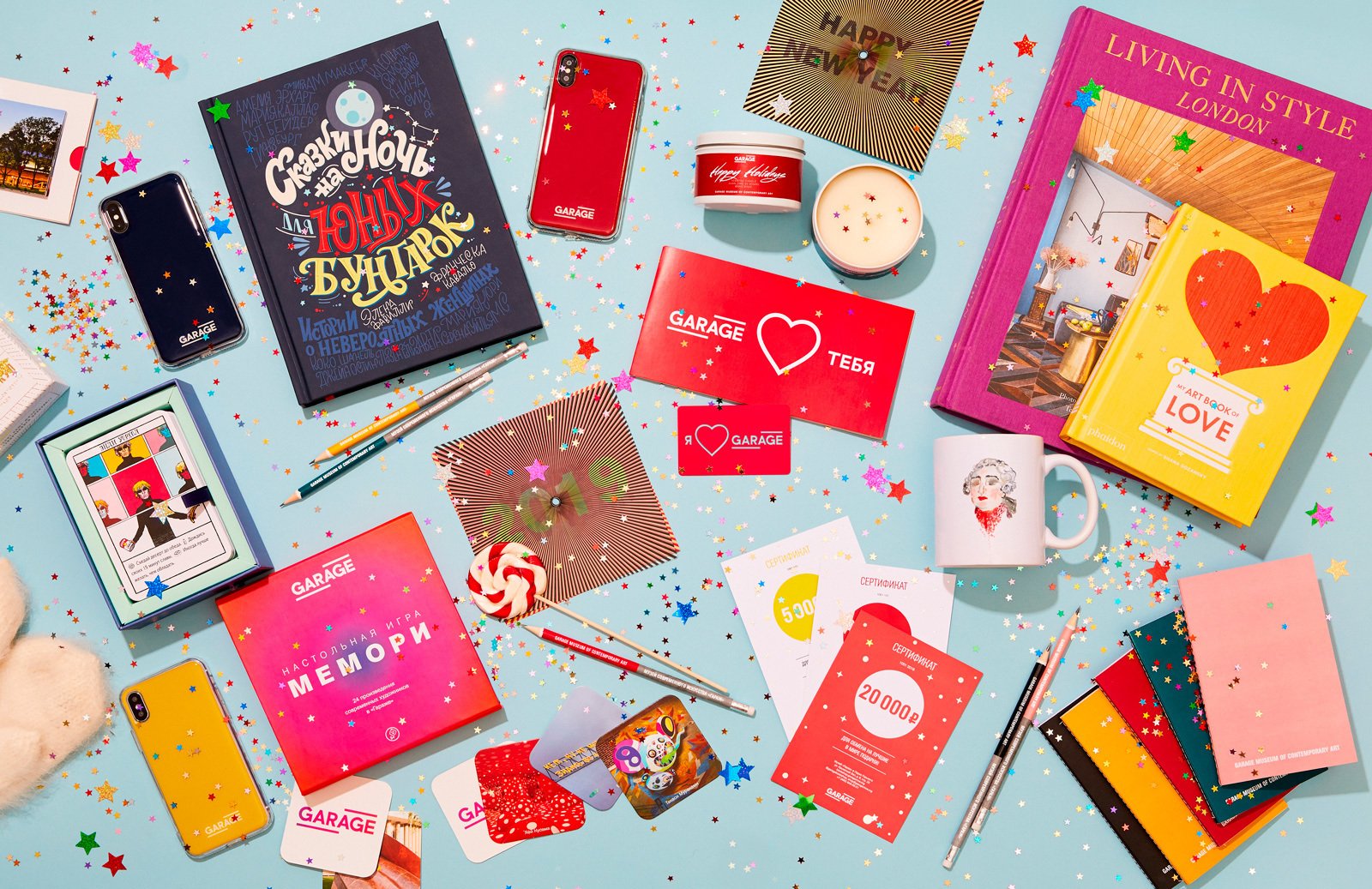 A brief guide to Garage's New Year's gifts and events over the winter holidays.
---
Before the New Year
Garage Bookshop offers a wide range of gifts for every taste.
In the run-up to the New Year the bookshop has brought out a selection of new souvenirs, including a black hoodie featuring a reflective print with Garage's logo, handmade natural wax candles scented with praline and mulled wine, and an optical illusion postcard. The Bookshop also sells limited-edition souvenirs based on Garage's exhibitions, stickers and keyrings with Garage Cat, and warm scarves designed by artist Maurizio Cattelan.
In 2018 Garage celebrated its 10th anniversary. To commemorate it, the Museum produced its own memory game with cards featuring twenty-four works of contemporary art shown at Garage at different times.
Books published by Garage in 2018 include the catalogue for Takashi Murakami's exhibition Under the Radiation Falls, Andro Wekua's artist's book Dolphin in the Fountain, the guide book Alma-Ata: Soviet Modernist Architecture 1955–1991 by Anna Bronovitskaya and Nikolay Malinin, Peggy Guggenheim's autobiography Out of This Century, and The Mystery of Our Time—a new collection of short stories from Pavel Pepperstein (in February, Garage will be showing Pepperstein's major retrospective). For younger visitors, Garage released a Russian translation of Heretics! The Wondrous (and Dangerous) Beginnings of Modern Philosophy and the colorful guide How to Make a Museum. These and other books, as well as a selection of gift cards are available at the Museum and online.
Don't forget, Garage Members enjoy a 10% discount at the Bookshop. Other benefits include free priority entry to exhibitions for one year, a 15% discount at Garage Café, special prices on Mosaic Music events and film screenings, invitations to Garage Nights and more. You can find out more or purchase a card or a gift card on Garage's website or at the information stand.
From December 17 to 30 all tours will also be discounted to 2019 rubles!
Garage also invites visitors to give the gift of knowledge: at the Education Centre and on Garage website you can purchase season tickets for courses on contemporary art, architecture, photography, and more. Our family courses have been developed specially for the youngest visitors to understand how contemporary art works.
Winter Holidays
During the winter holidays Garage will be showing three exhibitions. The Fabric of Felicity explores clothes outside the context of the fashion industry and brings together works by forty contemporary artists from five continents. Marcel Broodthaers. Poetry and Images is a retrospective exhibition of one of the most mysterious artists of the second half of the twentieth century. At the Atrium, visitors will find Anri Sala's The Last Resort—a sound installation based on Mozart's Clarinet Concerto in A Major. Damián Ortega's large-scale installation The Modern Garden celebrating the legacy of modernist graphic design is on show in Garage Square.
From January 2 to 13, visitors can take part in Art Experiment. This year, Garage's annual interactive project is devoted to photography, invented 180 years ago. Art Experiment. The Miracle of Light is an exciting guided journey through various photographic techniques and technologies. Visitors will see a real camera obscura, make a pinhole camera from a matchbox, learn about gelatin silver printing and freeze light. Further information and tickets are available here.
Garage Café has prepared a seasonal menu based on traditional New Year's Eve treats: jellied crab, Russian salad with guineafowl, and Yuzu & Mandarin (with vermouth and tangerine) and Clementine Sour (Prosecco and tangerine) cocktails.
See you at Garage!
Please note that exhibition galleries, Garage Bookshop and café are closed on December 31 and 1.