Limited edition clothing collection for toddlers by Garage and Tony Tots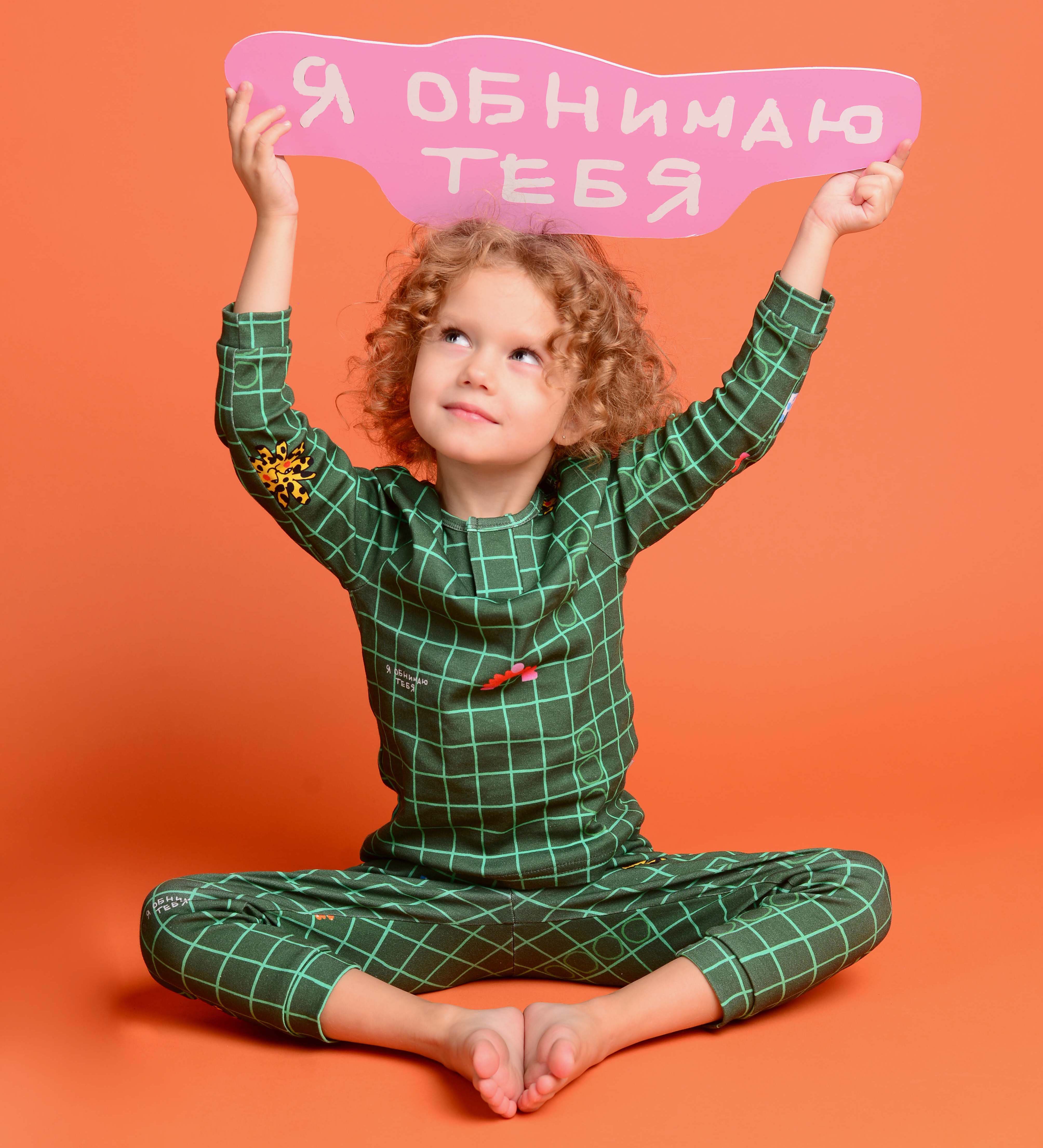 The first joint collection by Garage and Tony Tots will feature slips, bodysuits, kimono bodysuits, trousers, and pyjamas with a print by artist Masha Somik.
The print is based on a pattern inspired by one of the Museum's symbols, the emerald tiles in the Shop and the Café, which Masha has turned into an environment for her characters to inhabit. She often uses similar grids in her work.
"Masha Somik's print unites everyone involved in the making of the collection. It has colorful, recognizable elements from her own works, the outline the Garage tiles, and the phrase "I hug you," which reinterprets Tony Tots' slogan "More time for hugs." It's a pleasure to produce such collections and offer a new approach to the design of kids' clothing," says Anastasia Laptiy, the co-founder and CEO of Tony Tots.
"Masha's works are unique and memorable; they have character, are honest and easy to understand. The pattern she has designed fits babies' and toddlers' clothing perfectly and offers a great alternative to what you can find on the market today. The decision to use the saturated green hue was not an easy one, but we were determined to celebrate this recognizable architectural element of our museum and the result is a bold and unique design. This is what contemporary art drops should be like," says Katya Istratova, Head of Garage Merchandising.
This limited edition collection is available at GARAGE SHOP and at tonytots.com.
ADDITIONAL INFORMATION
ABOUT THE ARTIST
Masha Somik is an artist. She studied at Stroganov Moscow State University of Arts and Industry and holds an MA in Fine Art from Camberwell College of Arts, UAL, London. She has taken part in exhibitions in Moscow and London.
ABOUT TONY TOTS
Tony Tots is a young Russian brand of designer clothes for babies and toddlers, featuring unique and safe magnetic buttons. Tony Tots collections use unique artist prints. The project was founded in December 2020 by three friends — Yulia Barinskaya, Anastasia Laptiy, and Elizaveta Vainshtein.
ABOUT THE MUSEUM
Garage Museum of Contemporary Art was founded in 2008 by Dasha Zhukova and Roman Abramovich and was originally located in the building of the former Bakhmetevsky Bus Garage in Obraztsova Street, Moscow, which gave the museum its name.
As well as offering an exhibition program, Garage has amassed an extensive archive on the history of Russian contemporary art, publishes books on a wide range of themes connected to contemporary culture, organizes film screenings and talks, and offers long-term programs of support for artists and regional art institutions.
Currently located in the building of the former restaurant Vremena Goda, which was reconstructed by Rem Koolhaas and OMA (The Netherlands), Garage is now adapting the Hexagon pavilion as a new building for the Museum, to a design developed by the architecture firm SANAA (Japan).
To find out more about the history of the museum, visit chronicle.garagemca.org.