New Year's gifts at Garage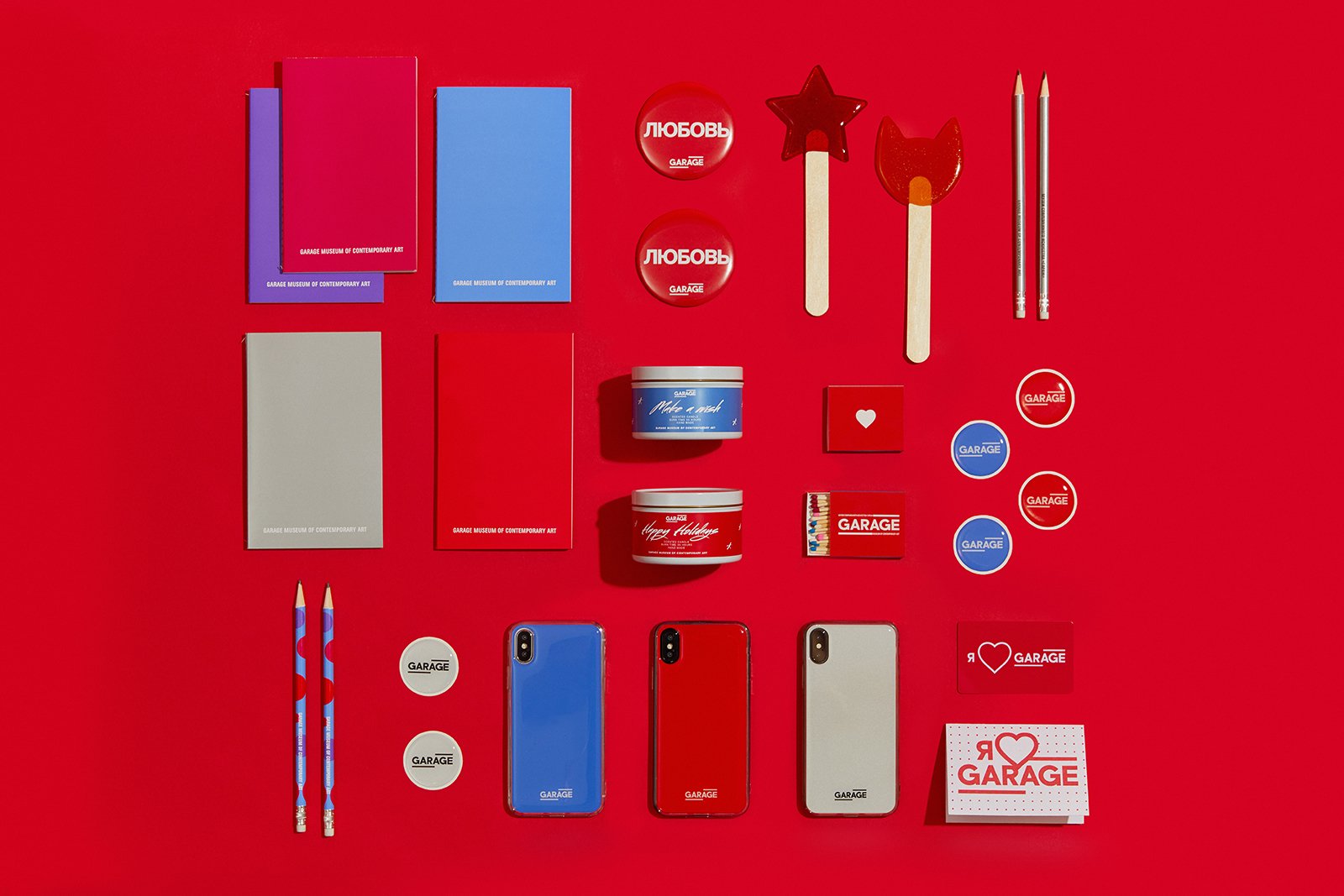 Garage offers a selection of gifts for any taste: souvenirs, books, tickets for the interactive project Art Experiment, Garage membership cards, gift certificates, and much more.
---
Souvenirs
This winter, Garage Bookshop will start selling special sweets: sugar- and gluten-free candies made with natural ingredients. Along with heart- and star-shaped sweets, Garage symbols (including Garage cat and emerald green tiles) will be available, each with a unique taste.
Other new souvenirs include a white long-sleeve tee featuring Garage's logo in Cyrillic, handmade candles of natural wax scented with burnt brandy or ambergris and cinnamon, a special festive collection of notebooks and other stationery in new colours. Until December 30, souvenirs produced for previous exhibitions will be on sale, with discounts ranging from 20 to 50%.
---
Books
Garage's 2019 releases that could make a good Christmas gift include Yuri Avvakumov's Paper Architecture—the first major study of the unique phenomenon in Soviet culture in the 1980s; Yo. Memoirs by Sergei Eisenstein; Timothy Morton's manifesto Being Ecological; Pierre Cabanne's Dialogues with Marcel Duchamp; and Desmond Morris's fascinating The Lives of the Surrealists.
In 2019, Garage has also released several new children's books, including I say NO! The History of Struggles Against Injustice by Daniele Aristarco; an illustrated book on the history of one of the oldest sciences Maths: A Story of Ideas and Discoveries; Yuval Zommer's encyclopedia The Big Book of Birds, and The Rubbish Monster board game.
---
Art Experiment Tickets
Along with books and souvenirs, you can give great experiences! From January 2 to 12 Garage will be running Art Experiment. You're on Air, an interactive project devoted to the poetic and magical properties of scents. Visitors can take part in a perfume making workshop, learn about gas analysis and get their olfactory portraits, make a healing flower bouquet and see some olfactory art. Tickets for Art Experiment will be available at the information stand before the New Year.
At Garage Café, visitors will find a special holiday season menu: dressed herring with home-made mayo and pike caviar; chicken with roasted veg and zhoug sauce; hazelnut sponge cake mousse with dark chocolate; and mezcal sour with tangerine and rosemary.
---
Education Courses
Season tickets for Garage education courses are another great gift idea. The Museum offers courses in contemporary art, architecture, and photography for adults, teens, and children, as well as family courses open to the youngest visitors.
---
Garage Membership
GARAGE membership card is a gift that will make the festive season last longer. This year, Garage has released a card in a new biodegradable holder made of seeded paper that can be grown into flowers—a sweet and beautiful addition to free priority entrance to exhibitions for one year, discounts at Garage café and Garage Bookshop, special prices on Mosaic Music concerts and film screenings, invitations to Garage Night parties, and other benefits.
To find out more about GARAGE card and how to purchase it for yourself or as a gift, visit the Garage website or ask our staff at the information stand.