Launch of Salyut Playground in Gorky Park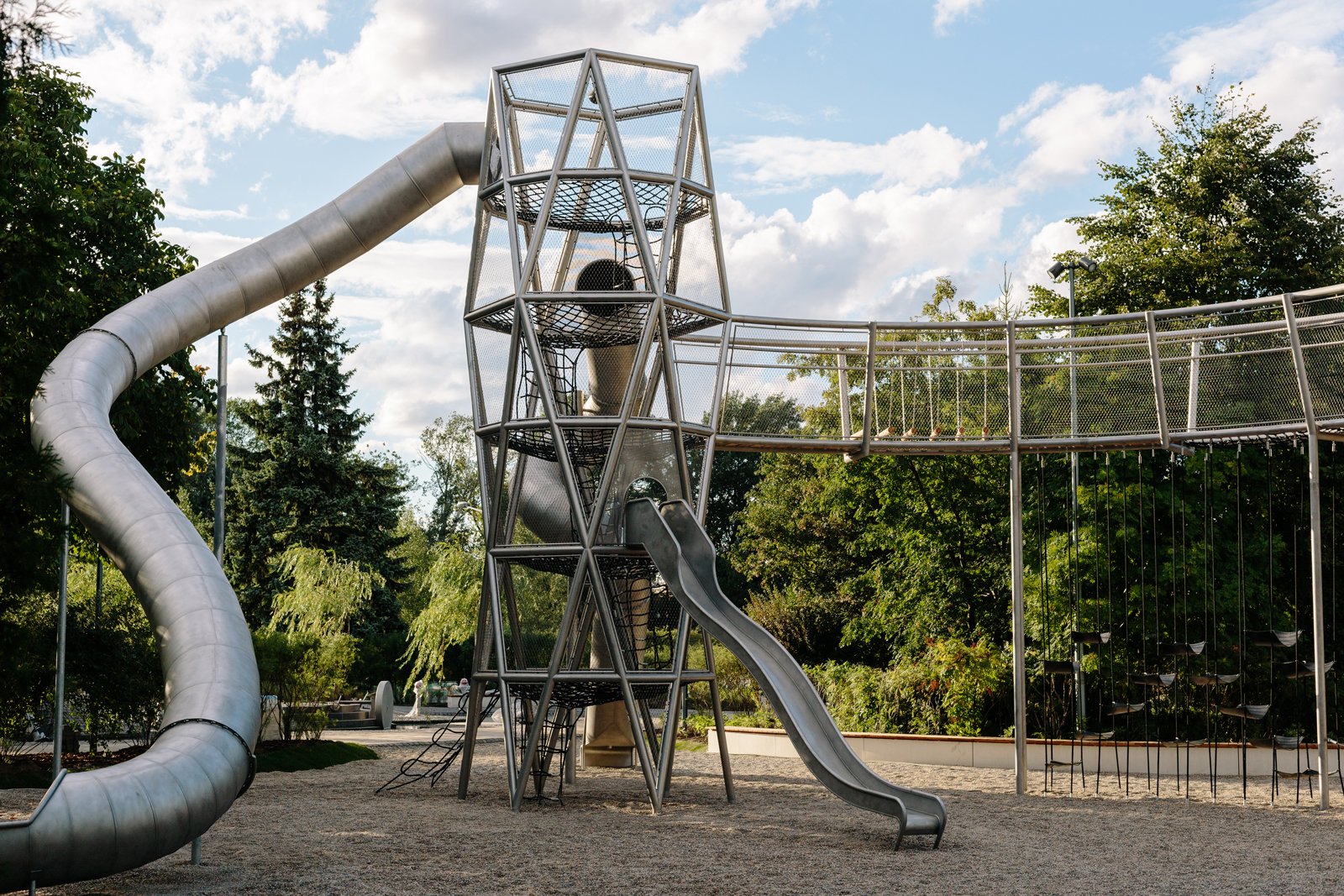 Salyut Playground is the largest public, open-air playground in Russia. It was designed by Gorky Park and built by Garage Museum of Contemporary Art to mark the Park's 90th anniversary.
The land now occupied by the playground has been used for children's activities and active leisure throughout the park's history. The children's city and crèche that were located here in the 1930s made way for a science city with a summer sports stadium and an amusement park. In 2012, the space became home to a temporary pavilion for Garage, designed by Japanese architect Shigeru Ban. After the Museum opened its main building in 2015, Garage and Gorky Park agreed to collaborate on the construction of a large playground for children and adults. It occupies two hectares and is located near Pioneer Pond, Green School Center for Children, and Garage Education Center.
Marina Lyulchuk, Director of Gorky Park, said: "The launch of the playground constructed in collaboration with our friends—Garage Museum of Contemporary Art—is one of the key projects marking the 90th anniversary of the park. We are visited by thousands of families every day and we wanted to build a playground where all visitors could enjoy themselves, whether they are 2, 12 or 102. Because we are all children inside, even when we are adults."
Anton Belov, Director of Garage Museum of Contemporary Art, commented: "Creating new formats for public space is part of the Museum's strategy. Accordingly, we were happy to support Gorky Park in developing this project by providing our expertise for the playground's design and construction. As well as entertainment, Garage offers visitors learning opportunities and adventures in which children and adults can actively engage, gaining new knowledge and experience. It's also important that the playground matches the Museum's standards of inclusion and will be accessible to visitors with disabilities."
Salyut Playground comprises nine separately designed playgrounds where visitors can interact with sand, water, color, sound, height, and depth, as well as a variety of textures, shapes, and scales. Each playground can be explored with all senses. Providing new sonic, visual, tactile, and spatial experiences, these environments help children to develop.
The one-of-a-kind Mega Swing consists of 29 swings of various types, lit up with moving color in the evenings. Their oval shape is a homage to the Ferris wheel that was one of the main symbols of Gorky Park during the Soviet era, as well as being a reference to the shape of the now demolished Shigeru Ban pavilion. Towers, which includes 20-meter-long bridges and nets, is a unique climbing structure for children aged seven and older. The nine-meter tower boasts a panoramic view of Gorky Park. Moscow's biggest water playground features 100 meters of canals with dams and locks, Archimedes' screws, and water machine-guns. Visitors can play with light and color at Kaleidoscope playground and build with dry and wet sand or dig up a dinosaur skeleton at Seabed. Toddler's Meadow is the best place for the youngest visitors to play in sand and on solid ground, and Ravine features slides and a climbing wall. Visitors can also play with mobile building blocks and explore the Dreamcatcher climbing frame.
The playground is accessible to visitors with various disabilities and features several swings for wheelchair users.