Diana Ezugbaia (b. 1990, Ochamchire, Georgia)
I am an art mediator and guide. I received my MFA degree from Lomonosov Moscow State University in 2017. My Master's thesis is dedicated to the genre of installation in the context of Russian art of the recent decades. My academic tutor was art historian and critic Andrey Kovalev.
The projects I've taken part in include: the exhibition Here and Now, Moscow Manege (2018), III Biennale of Street Wave Art Artmossphere, Winzavod Moscow Contemporary Art Center (2018), Viva la Vida. Frida Kahlo and Diego Rivera. Paintings and drawings from museums and private collections, Moscow Manege, Moscow (2019), IV Moscow Cultural Forum, Moscow Manege, Moscow (2019).
I enjoy working with ideas and people. I decided on my look at the age of five by cutting a fringe with my own hands, and have been making decisions and taking responsibilities for them since then.
---
Memoirs of a Geisha, or the Art of Communication
– What's your occupation?
– I am a mediator.
– Sorry, can you say that again, please?
Few people, even among those who are closely connected with art, would know what an art mediator is. This is a relatively new phenomenon, especially in modern-day Russia. This is why, in order to introduce the visitor with the topic, I describe my occupation the following way: "For sixty to ninety minutes I become your close friend, as we discuss the exhibition, the artworks, and, unlike a guide, I'm interested in hearing your opinion." According to my experience, the visitor instantly understands my role and tasks. The reader would perhaps be embarrassed with the idea of "a friend for an hour", but this strategy allows the mediator to forward the conversation in the right direction before switching to free floating without the need to spend time on constructing the roles. When the interlocutor is emotionally ready it is possible to start discussing the subject the dialogue is based around. The mediator should be a good psychologist, should feel their visitors, infiltrate their essence—in order to find an individual approach to their heart and mind. Therefore, to set out on a journey into the world of Ideas, it is important to attract the listener intellectually from the very beginning.
It was during the project Bureau des transmissions that I began associating myself with a geisha. It may sound odd, but it is really so. Feminists, please, forgive me for this comparison, it is purely subjective. Young people can also be art mediators, and there are a lot of them among my colleagues. The work on this project has its specificity because of the tea-ceremony element suggested by the group microsillons in their piece Ladder Café. Here I feel myself a hostess of a tea house where several habitants co-exist: the string cloud by the Danish artist Karoline H. Larsen, the spellbound wardrobes by Linda Vigdorčika, and the touching albums of Olga Zhitlina and Anna Tereshkina.
The very etymology of the word "geisha" is helpful, allowing for comparisons with the functions of an art mediator within this project, since the word is composed of two hieroglyphs which mean "art" and "person" respectively. A geisha has to be educated and have good skills and manners. In this relation, I should mention that people wishing to become mediators make a long journey before becoming interesting interlocutors.
I am used to working at large venues where one can move from room to room and wander across the space. But it feels different in Garage's LAB area which is cozier and more accessible for good control of the space. So, being surrounded by art works, I meet travelers from other worlds and introduce them to my own one via the practices of tea drinking, looking at albums, playing games, and tying up ribbons.
On Bureau des transmissions artworks
Artworks displayed as permanent items (throughout the exhibition) can be approached from the viewpoint of temporal categories: the past, the present, and the future. The past is represented by Ekaterina Muromtseva's video piece about the experience of engaging people of "the third age" in art. The video medium itself implies the documentation of an event that has passed, and the screen shows us people who have lived most of their lives already. Zhitlina and Tereshkina's newspaper Nasreddin in Russia and albums refer to the present and past at once. Ladder Café by microsillons exists only in the present moment, during the tea ceremony, and once this process is over, the action also falls into oblivion. Linda Vigdorčika's Translation Wardrobe and Karoline H. Larsen's Collective Strings relate simultaneously to all temporal modes. The participatory aspects of these works express the present, collective memory, and contemplation—the past, while the projection of the future is evident in the inscriptions on the strings and dolls with wishes inscribed by people.
The arrangement of the works across the LAB space at Garage suggests a spiral a metaphor for the mechanism used in the production of any artwork. Ideas are not being born from scratch, since there exist such things as experience, heritage, and insights (the video work by Muromtseva). They penetrate the present, including the moment of the emergence of an idea, and that of its discussion (Ladder Café by microsillons). Next, the idea is transferred to paper for further development (Nasreddin in Russia by Zhitlina and Tereshkina) which then entails realization (Linda Vigdorčika's Translation Wardrobe). The resulting piece is a complete artwork highlighting the categories of heritage, implementation and aspiration (Karoline H. Larsen's Collective Strings).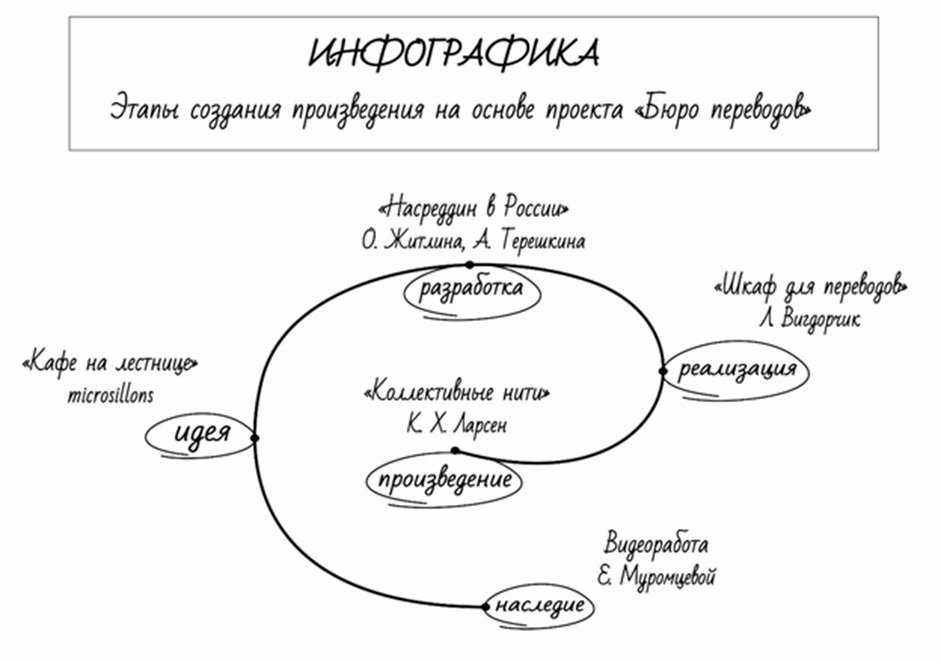 INFOGRAPHICS
Heritage
Idea
Development
Realization
Artwork
My communication experience
During the opening shift, my guests were two interesting young people who observed the installation Collective Strings with pure admiration. We had a conversation together over a cup of green tea, whereby I learnt that one of them was a chemist. On that same day, I had learnt about Garage's policy of waste and paper sorting and decided to ask his opinion about it. The young man pointed out that since many materials are toxic, each needs individual approach, and therefore his attitude to waste sorting and the reuse of plastic is positive. In this context he also shared an interesting episode from his life experience.
He studied at school which promoted the idea of waste sorting and had special containers installed everywhere. But once, from mere curiosity, he opened the lid of the biggest among them and was shocked to find garbage of all types mixed with each other in the same box. The chemist concluded that waste sorting policy in our country remains in its infancy. I suggest wrapping up this story with the question: where are the limits of an institution's control, at what stage do institutions lose the power to control, and to what extent are they responsible for it?
Amazingly, sometimes people were not able to interest me at all. This is what I was horrified to discover during my second shift, when talking to a girl who turned out to be mouthy and empty. It seemed that she didn't really need me, erupting words into the air. She was like an engine emitting steam non-stop and sending it somewhere in the nowhere.
At times, totally amazing conversations can be heard.
– There are two main motivation factors which can be used in the education process: fear and love. In this country, education is mainly based on fear. Nothing is being built around love, even families. Why does it happen? Because fear is easy to achieve.
– How could it be changed?
– I think each of us should devote more of ourselves to love.
– Where can this idea develop from?
– From manifesting love. If I manifest love for someone it fills that someone with love too. They start manifesting it in their own turn.
– And how is it possible to spread this idea?
– It doesn't need to be spread. Just manifest love, and that's it. It will spread around on its own. One has to be its source. Because everyone has it inside: sometimes concreted, but sometimes fighting its way through the concrete, like a flower. Our task is simply to grow slowly, in order to break the concrete—and it will break through. But it is important to grow slowly, not breaking it with hands.
Or hear something like that:
"The level of your friendship depends on how well you understand your mutual goals, and how similar your common values are."
The mediator can get answers to questions which bother them. Which is wonderful because, conducting your own sociological research allows to you draw a great number of diverse viewpoints. For me, this question was "How difficult is it to be an organizer?" And one of the most nontrivial answers to it was "It is quite hard. This is my answer. It is difficult to be, and easy "not to be."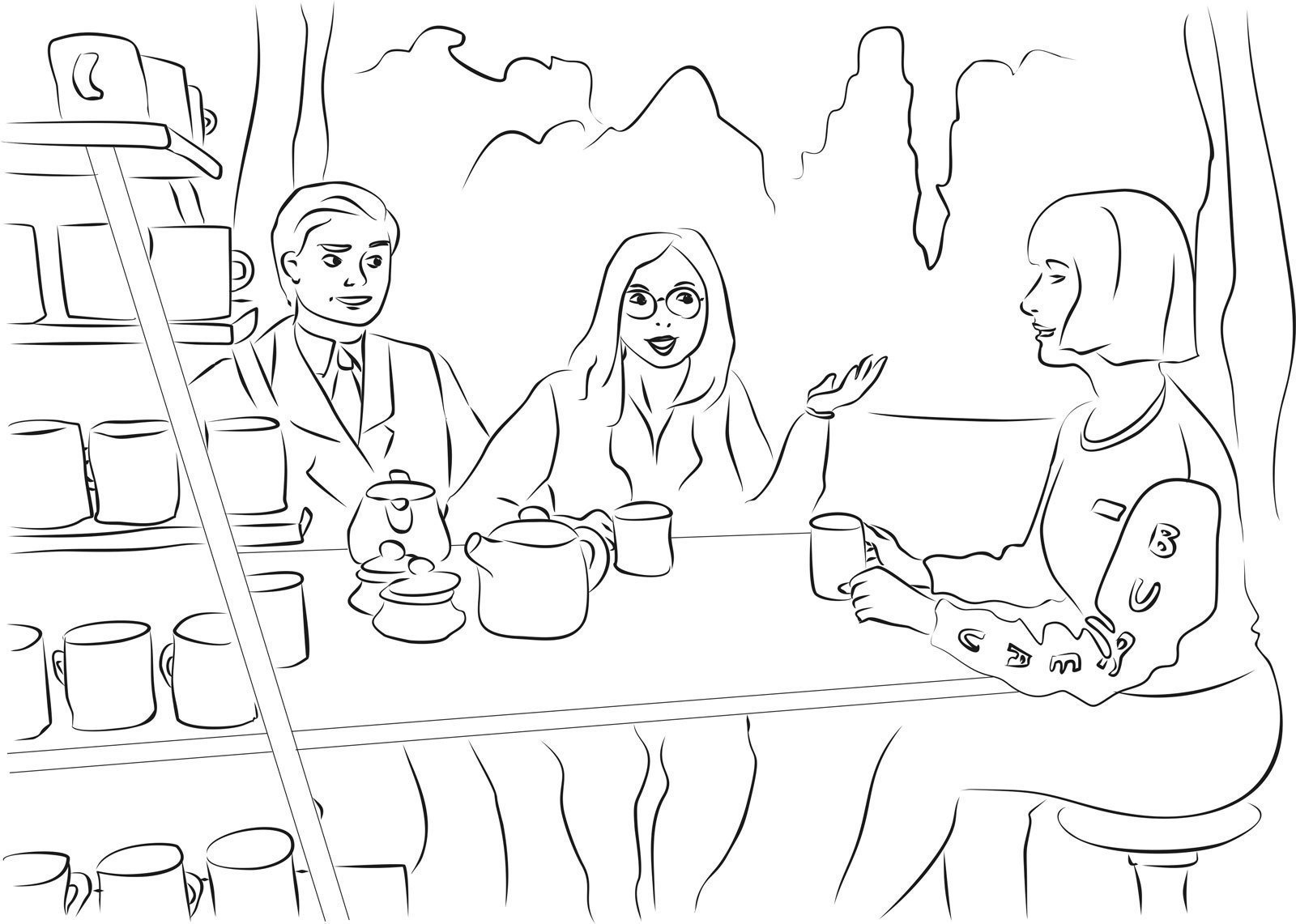 I often reflect on how the quality of mediation could be enhanced. Along with erudition and the skill of listening to and hearing the other, I think it is necessary to work on the quality of speech, to make oneself clear and understandable. Disciplines such as rhetoric, speech culture, and logic are decent helpers on the way to achieving this goal. Yet the most crucial factor for mediation to happen successfully is the inner readiness to open in front of the visitor, because sincerity is worth a lot.
Conclusions about the project
The project allowed each of the mediators to reveal their individuality in different ways, from tea brewing techniques to diary format, all this made possible due to the initially set task to feel as free as possible at the site and not be shy because of one's psychological state. This instruction proved to be very helpful, because when I started experiencing emotional exhaustion at work and unwillingness to communicate with people, I instantly remembered the advice about acceptance and forgiveness. Paradoxically, such insights boosted my morale, a new visitor would enter the space and the communication resumed while enthusiasm replaced the fatigue.
The project, in my opinion, has a taste of paganism. Many of the actions we were making resembled shamanistic rituals. At some stage Linda's dolls were hanging on Karoline's installation Collective Strings, while the ribbons became covered with quotes, signatures and contacts. Together with installation, grew the feeling of some ancient cave with hanging stalactites, whose inhabitants—the mediators—lure guests in their refuge.
Among the downsides, I would name the furniture designed for the project. The combination of the MDF texture with the "broccoli" color invoked an association with a children's room in a shopping mall in many. The logistics of the mugs wasn't thought through either: in the conception by microsillons, they were meant to be placed spontaneously, but oftentimes the mugs were put in a thematically free order during one shift, while organized in compliance with a particular idea during the other. Because of these endless permutations, which depended on personal tastes and visions of mediators, the paired mug could be lost and unavailable when it was needed. Also, I often asked myself whether we needed so many different questions. According to my experience, there were a around a dozen most popular ones, including: "Can anyone be an artist?"; "Can emoji drawings help communication?"; "Can there be a feminist museum?". Some questions were impossible to work with. When a question seemed too complicated for the visitor, they preferred to listen to the mediator's explanation.
Mediation is a unique opportunity to get in touch with people with whom otherwise, due to circumstances, your character or viewpoints, you would have hardly ever talked to. The inspiring thing is that both the visitor and the mediator are a priori put into a situation deprived of social tensions. Because of that, communication can be very intimate, like a conversation of two strangers on a train, who have no personal commitments and whose paths will soon diverge. I like the fact that people feel the significance of mediation and their contribution to it in the process. Mediation is a diary written and read together, which exists non-materially, within an art process alone.
I watched as the guests of the exhibitions were leaving it happily, inspired by the feeling of belonging to what was going on there that allowed them to rediscover themselves anew. And this wonderful project was a success exactly because of mediation, which opened its embraces to the travelers and let them inside its home, gave them spiritual food, and released them for further journeys.