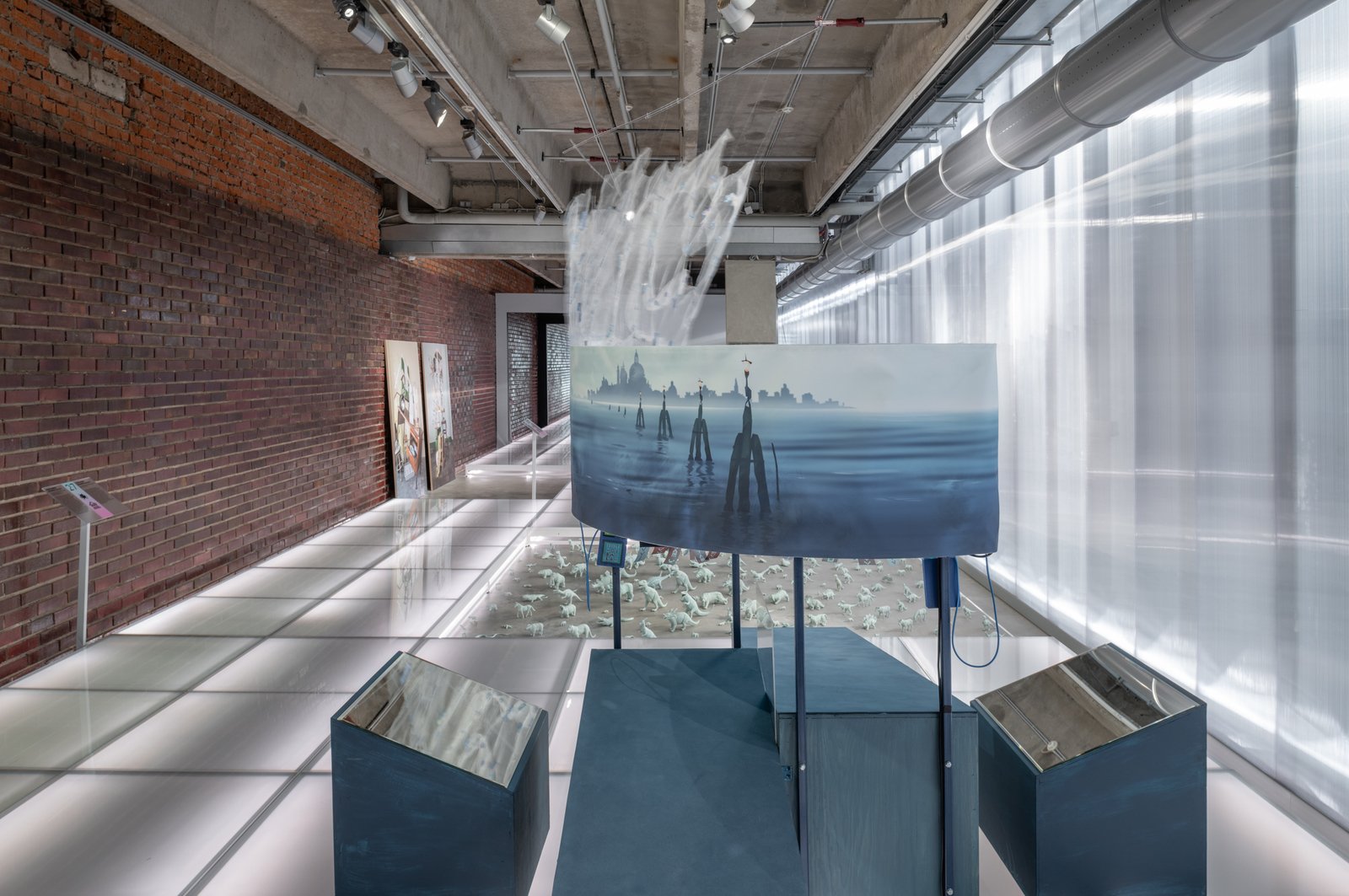 Asya Volodina
Venice of Fish, 2021
Wood, metal, textile, Arduino and Raspberry Pi modules, mirrors, plastic ribbons
115×350×160 cm
Courtesy of the artist
After the 2019 flood in Venice, which was caused by global warming, the not-for-profit organisation Factum Foundation launched a project for the digital preservation of the city, so that future generations of people—and, perhaps, artificial intelligence— will still be able to explore its architecture in the event that Venice disappears under the sea. Game designer and artist Asya Volodina presents Venice as seen by non-human agents, in this case fish.
Venice of Fish is a game in which participants lie down under a "board" reminiscent of a fish's swim bladder (vesica piscis, Lat.). This shape has been the subject of numerous mystical speculations and is encountered in sacred geometry and masonic and Christian practices.
Although it explores disaster tourism, Venice of Fish was inspired not so much by ecological alarmism as by an experience of poetic chaos. In terms of nature, it was inspired by the flood (Volodina was in Venice when the water was at its highest), and in terms of culture by the immersive installation Deep See Blue Surrounding You by French artist Laure Prouvost, which was shown in the French Pavilion during the 58th Venice Biennale.
In describing her work, Volodina cites Joseph Brodsky's Embankment of Incurables: "The boat's slow progress through the night was like the passage of a coherent thought through the subconscious." Here, alongside "the subconscious," we find poetic chaos and the creative energy of nature (even if it poses a threat to everything that is too human).
The rules of the game imply a particular viewing choreography: participants are invited to try out the role of fish exploring the underwater sights and renounce their vertical stance. In this respect, like the work by Fedora Akimova exhibited
next to it, Volodina's installation can be seen as a critique of anthropocentrism. As the critic Egor Sofronov pointed out in conversation with another artist in the exhibition, Daria Iuriichuk of the group Kafe-Morozhenoe, "posthumanist and materialist critique of anthropocentrism" is expressed "through the materiality of films and shells, that is, of matrix-like and feminine deconstructions of the phallus as an erect supporting structure... through spatial images of horizontality."
IV