Formed in 1998 by Sven Jonke (b. 1973, Bremen), Christoph Katzler (b. 1968, Vienna), and Nikola Radeljković (b. 1971, Sarajevo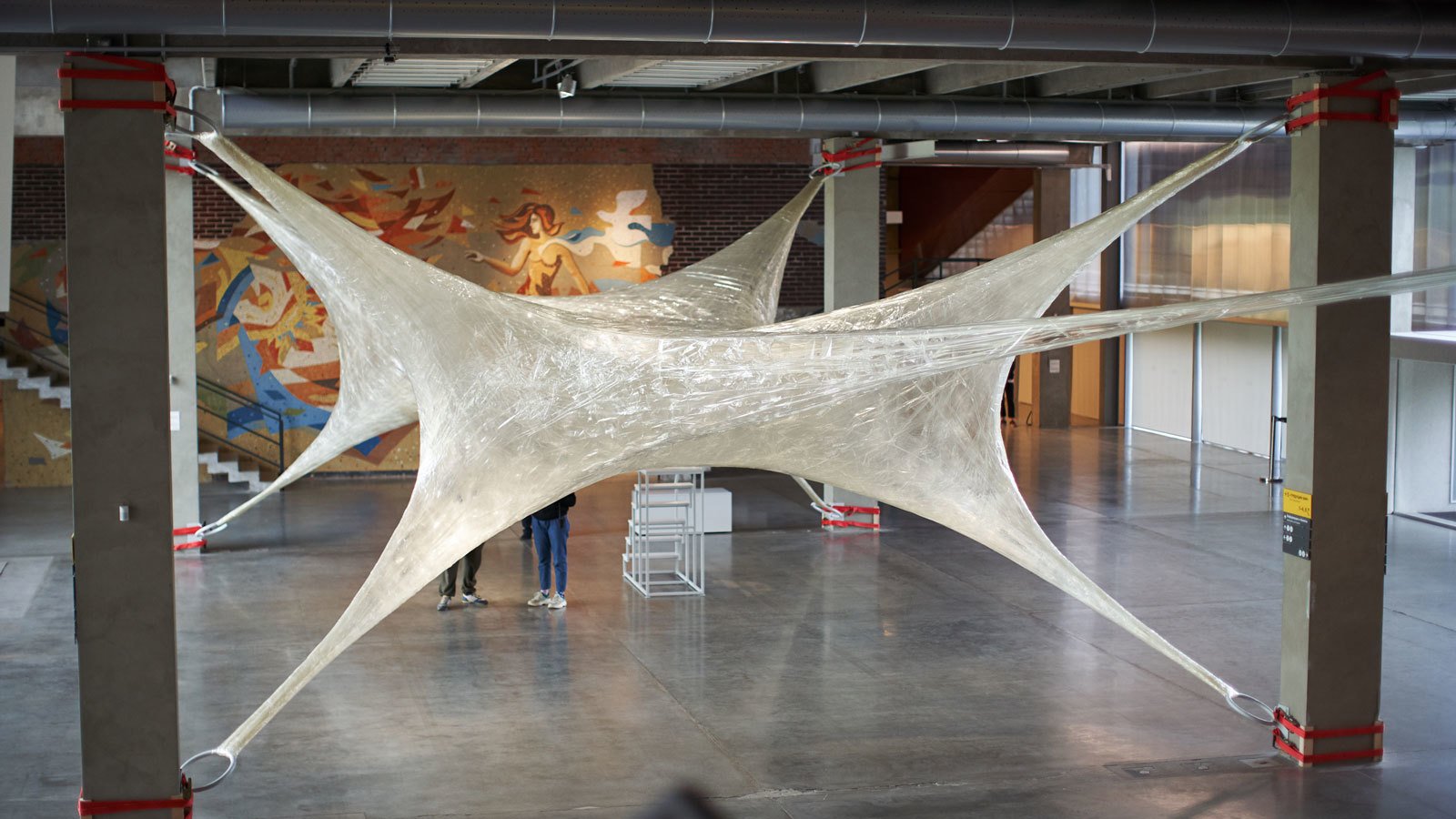 Tape Moscow, 2019
Installation, dimensions variable
Courtesy of the artists
Тhe group Numen/For Use has taken over part of the Atrium space of the Museum to create a large-scale biomorphic sculpture made of Klebio, a newly developed compostable adhesive tape made of cellulose. Resembling a semi-transparent tentacular structure or a rhizomatic plant inside of which visitors can wander, the corridors of interconnected cocoons largely reproduce the architecture we observe in nature. Numen/For Use has installed site-specific tape installations in institutions around the world, but this is the first time the group has used this type of biodegradable tape, which was developed by the German company Compostella in collaboration with the artists. Around 900 square meters of tape is wrapped layer upon layer, transforming the chaotic skeleton that the installation resembles at the start into a uniform finished structure. Visitors can enter the sculpture and spend time inside it, an experience that might be compared to being in the womb, or in a completely alien world.
The works in this series mimic the world we live in, with its interconnections and branches coming from a core structure that is horizontal rather than vertical, multilayered, and built on self-tensioning anchor points. They are a visualization of the Other, a biomorphic, organic world with soft walls and an unstable base, which triggers various reactions. Some people have described feeling skeptical and insecure in this new environment, others have experienced it as regressing back into childhood, with the sculpture's shape encouraging playfulness and carefree behavior, inducing visitors to roll around and crawl on all fours.
---
Activation installation Tape Moscow
Monday, Wednesday: 17:00–22:00
Saturday: 12:00–17:00
Rules:
Accessible only with an exhibition ticket
Queuing may be necessary
Take off your shoes. No bare feet.
Accompany your child if they are under the age of 10
Leave your bag in the cloakroom. Food, drinks, and sharp and inflammable objects are not allowed
Don't walk, jump or bounce within the installation. You can move around by crawling.
For safety and logistical reasons, only 2 people are allowed inside the installation at any one time and for no longer than 5 minutes.
Maximum load within the installation: 100kg per m2
The installation is not wheelchair accessible.