Atelier E.B. Street vitrines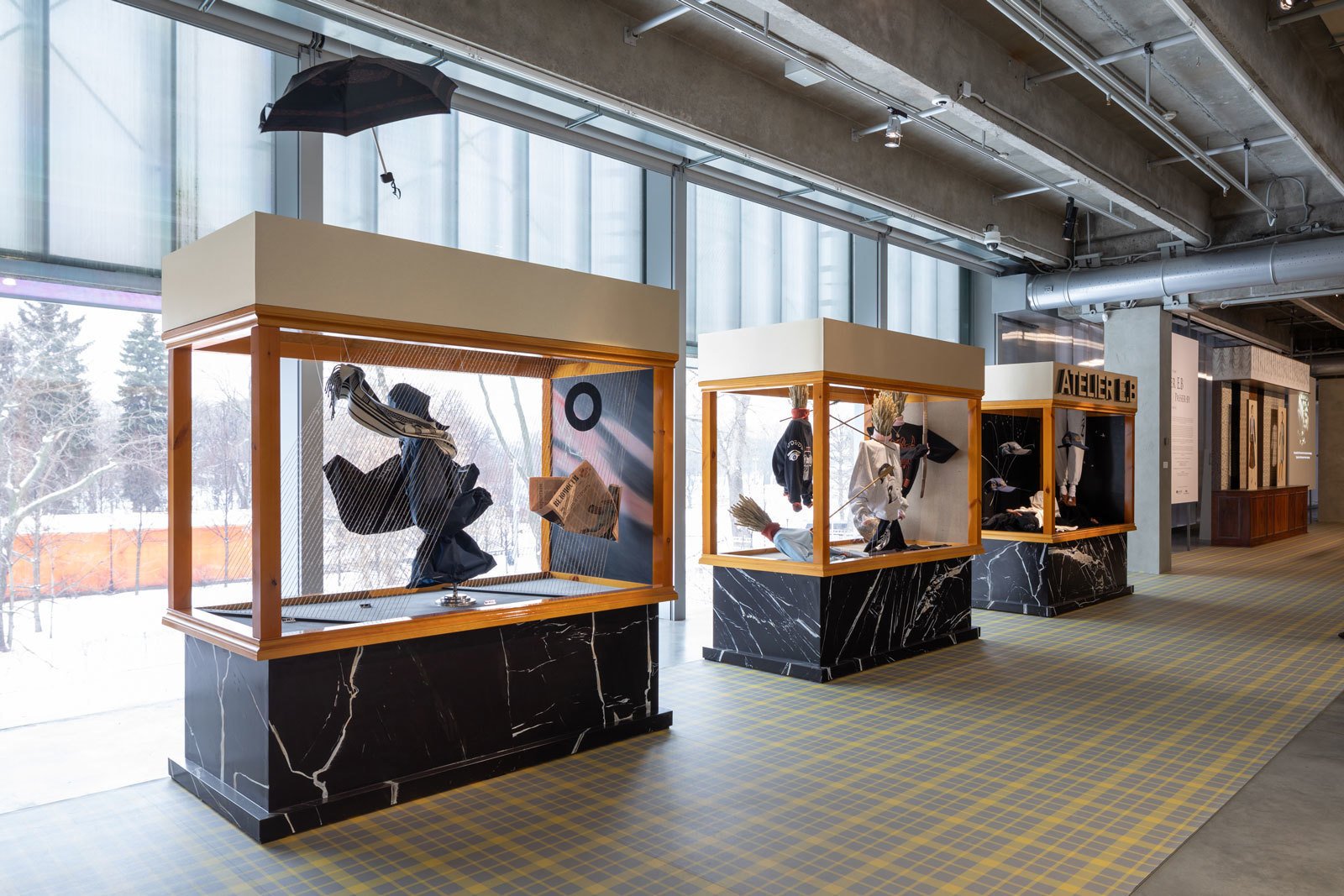 In the right lane of the exhibition space you can see three "street vitrines" with items created by Atelier E.B. These are life-size sculptures, built to resemble the type found on grand shopping boulevards such as the Kurfürstendamm in Berlin.
The vitrines at Garage have been expertly installed by the trimmers Howard Tong and Barbara Kelly. They use tools like fishing wire and pinning to suspend the garments in anthropomorphic spatial compositions. Their skill brings a vulnerability to the sculpture, a sense of physical tension and vivaciousness, both literal and metaphorical. There is an analogy to trompe l'oeil painting, in that both are technical skills which create illusionistic surfaces and effects, and the shallow space of the window sits somewhere between a stage set and an exhibition. And there is also an analogy to contemporary social media. Shop windows are time sensitive, with new products that will be gone by the next season, so when they are dusty or out of style, that is really thrown into relief. Window dressing is a testing ground for ideas about taste, contemporaneity, and value, which are relevant to both fashion and art, but also to culture in general. While the term "just window dressing" is pejorative, it can provoke and subvert.
Cleo's, Atelier E.B's mobile app, is the digital shop window of the brand. It tries to be a reflective surface in which the shopper sees themselves, as well as the product on display. Like Lynne Hershman Leeson's "Bonnie" mannequin reaching through the glass window of the department store to the viewer on the pavement in her 1976 project 25 Windows: A Portrait of Bonwit Teller, in the digital realm Atelier E.B try to dissolve the border between the producer and the consumer, recognizing that these borders are continually being renegotiated.