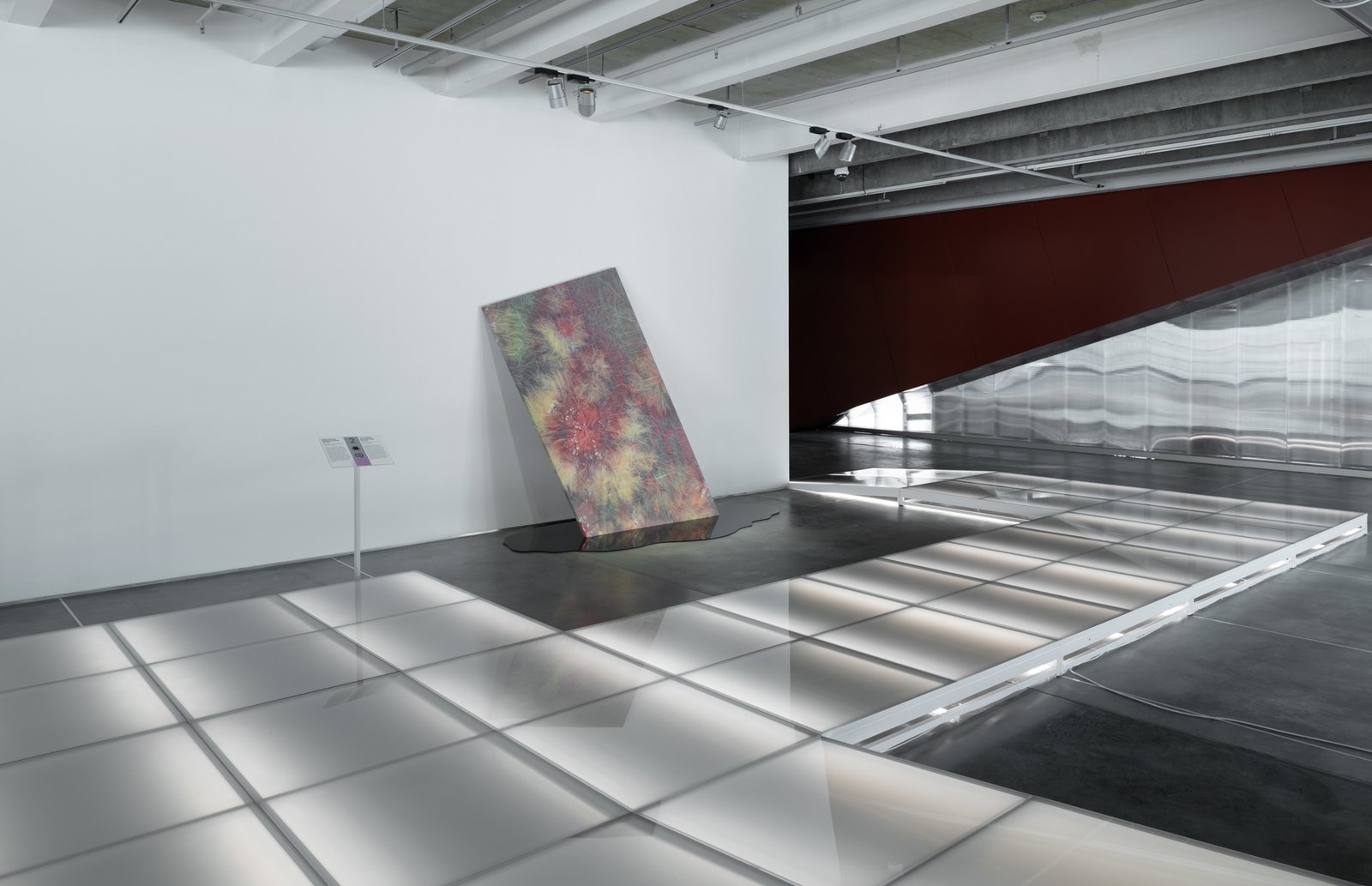 Vitaly Barabanov
Unexpected Episode, 2020–2021
Natural pigments, acrylic, and natural fixatives on canvas, wood, plastic
Dimensions variable
Courtesy of the artist
During the first Moscow lockdown due to the COVID-19 pandemic, Vitaly Barabanov found himself in an unexpected situation. For several months he was unable to work in his studio. This circumstance played a decisive role in the creation of a new series of artworks, one of which is on view at the exhibition.
The series continues Barabanov's experiments with "living" work developed in collaboration with nature, which he launched with the projects The Practice of Plen-air (2016) and Plastic Cultura (2017). In these experiments he was attempting to enter into a certain relationship with nature, while bearing in mind Bruno Latour's ideas of a convocation of "collectives," i.e., associations of human and non-human actors performing with the aim of democratic reassembly of the relationship between nature and society. In The Practice of Plein-air, for example, Barabanov painted the landscape and route of his walks by sitting on canvases or tying them to his leg, while the Plastic Cultura series of paintings is a result of filtering through the canvas water and pigments of three primary colors—red, yellow, and blue. The artist "grew" his new series in flowerpots, watering the canvases like soil with solutions of natural pigments and various fixatives. This process was interrupted by quarantine, which meant that the canvases gradually dried up over the course of several months, so that the final imagery formed in the absence of a human being, submitting to natural processes and the passage of time.
The dark mirrored surface, in which the "living" canvas is reflected and seems to dissolve, appears here as a reference to the science fiction TV series Black Mirror, which Barabanov feels has become uncannily realistic in the situation of isolation and the transition online. The title of the series alludes to the ubiquitous presence of screens, and its episodes are united by the leitmotif of humanity's total subordination to technology. The colors and shapes of the painted image, created "collectively" in collaboration with non-human agents, are distorted by this contemporary version of the Claude glass, a device for observing natural scenes "through a filter," which is named after master landscape painter Claude Lorrain and was designed to give a more "cultured" tone to excessively vital natural colors.
ES