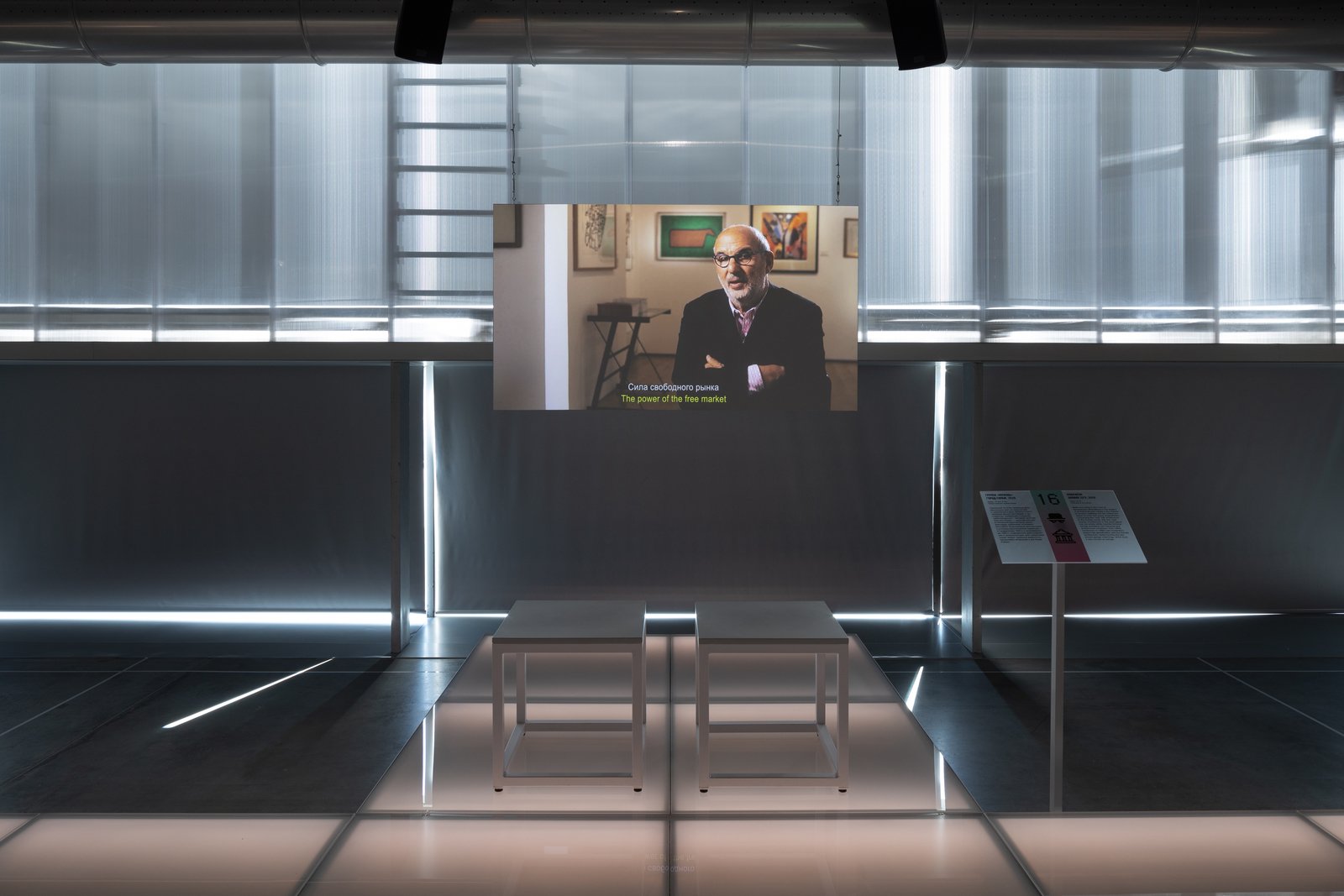 Khochesh group
Garage City, 2020
Video, 12' 8"
Courtesy of the artists
Made according to the rules of documentary filmmaking on the subject of architecture, Garage City tells an incredible story, the beginning of which dates back to the Soviet 1920s and the end of which looks into the future. The script is based around the creative path of our contemporary, the architect Marina Krifaridi, and the heritage of the "Tuapse avant-garde" that fed her practice. The Tuapse avant-garde comprised a radical synthesis of Georgy Krutikov's Flying City project (1928) and Mikhail Okhitovich's concept of disurbanism, which was inspired by advancements in transportation (1929–1930). Embracing both ideas, VKhUTEMAS students Elena Dostova and Irina Mogilnaya, who were taught by Krutikov, came up with designs for flying house-garages: living cells that could float freely in the air and move through space. Way ahead of its time, the utopian project of the garage city Tuapse was not implemented. However, it found a new life in the 1960s, with the development of the automotive industry, which boosted the spontaneous growth of garage cooperatives. Marina Krifaridi transformed garages into dance clubs and bars, cafés, restaurants, and hotels. Forced to go into hiding in the aftermath of the repressions that followed Garage Riot of 1968, the architect resumed her practice in the 1990s, when individual garage construction swept through Tuapse. Much in demand among the new Russia's private clientele, Krifaridi founded an architectural school of extreme urbanism, which, faced with new environmental challenges, created another revolution by turning Tuapse into a garden city where trees grew on garages and greenhouses were installed on them.
The story of the architect, who was awarded the Pritzker Prize in 1999, is narrated by guest experts, architects, and critics, and features historical documents and photographs, blueprints and 3D-render. Originally recorded in English and dubbed in the manner of underground translation, it sounds entirely plausible, especially as Krutikov's seemingly fantastical projects actually existed. Nevertheless, after a while the viewer finds themselves immersed in a space of fiction, or what Carrie Lambert-Beatty has called parafiction: "Unlike historical fiction's fact-based but imagined worlds, in parafiction real and/or imaginary personages and stories intersect with the world as it is being lived."1 The film by Khochesh Group connects the "real" folk architecture of the Russian South with the "real" utopian architecture of the avant- garde era, ingeniously inscribing fictional female architects into historical and architectural narratives—from 1920s modernism to 1960s neo-modernism, present-day gentrification and eco-friendly architecture—deftly forming the plot around garage mythology, which finds a new context at Garage.
EL
1. Carrie Lambert-Beatty, "Make-Believe: Parafiction and Plausibility," October, 129, Summer 2009, p. 54.